Disc Plough in Africa
Disc Plough Used for deep ploughing in roof-infested, sticky, stony and hard soils. Mixes remains of crops and weeds throughout the depth of ploughing, hence ideal for rain-fed areas for checking soil erosion by water and wind. It is basically designed to cut everything like rock, stone etc. which come in the way. Moreover Disc poughing is used for deep ploughing of soil. Furthermore it is used in that place where we have to plant the seeds. It is basically high advanced agricultural equipment which helps to increase the land productivity effectively and efficiently. Mostly it is used in big planting area where large amount of crops to be used. Malik agro industries is the largest provider of Disc Plough in Africa and many other regions.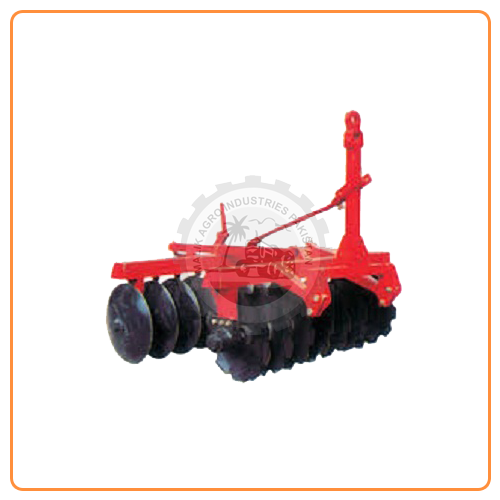 How it works:
Spring loaded floating rear furrow wheel controls the side draft to ensure straight work and ease of handling by smaller tractor.
Re-greasable Taper Roller Bearings in disc hubs.
Disc angle adjustable to vary the penetration with varying soil conditions.
Cat I & II linkage.
Disc Scrapers are adjustable to ensure that the Discs remain clean in all conditions.
New disc plough. Used for primary cultivation. This is the first stage in seed bed preparation. If you are considering buying some agricultural implements for use with your tractor the most important machine to consider is a disc plough as primary cultivation is by far the most labour intensive task when carried out by hand. Over half of our customers who buy a tractor also buy a disc plough.Very popular with our African customers.
Disc Plough farm implement is used and designed for deep ploughing in almost all types of soil. Moreover it is of high value as it can dig and plough through muggy, gravelly, stony and tough soils with ease and convenience. It is of great assistance when mixing, raising and breaking the soil. While it can be easily attached to tractors and the side draft is controlled by a spring-loaded rear furrow wheel to make it easy to operate and handle by small tractors. It is one of the most important implements to be attached with a tractor and is employed for primary cultivation.
SPECIFICATIONS:
Frame Type: Tubular Seamless Steel Pipe
Number of furrow: 2, 2 + 1, 3, 3+1
Furrow Width: 254 mm
Max working depth: 300 mm
Longitudinal clearance: 522 mm
Furrow Wheel Dia: 508 mm
Plain discs 660 mm-inside or outside bevel
Bearings Taper roller
Weight 360 kg (3 Furrow)
Tractor 50 to 85HP.
Disc Plough for sale in Africa
Malik agro industries deal used & new tractors in use and all over the worlds the farming field directs linked with human life from day one after the birth of this earth. Whether you are living in Africa or any other part of the world you will observe that farmers and the agronomist community are consecutively doing keen research and implementing the modern agriculture methods to grow profitable crops to contribute to country's economy.
Africa Disc Plough supplier
Africa Disc Plough supplier and Agricultural Farmer Tractors Implements is available for sale at a very low price at our latest stock available for Africa UAE And Africa. While we supply tractors for Kenya, Tanzania, Mozambique, Angola, South Sudan, Nigeria, South Africa, Zimbabwe, Uganda, Cameroon, Togo, Ghana, Botswana, Namibia etc.
How to order Disc Plough from Pakistan to Africa
Kindly in touch with our sales team on social media channels such as Facebook, linked in, whats App number and write us an email one Email us and one of our sales representatives will provide you the complete assistance regarding Agriculture Tractors and Implement. All information available on our website home page.